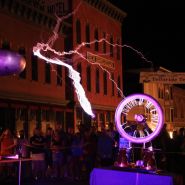 The Telluride Tech Festival is an event designed to honor individuals who are leaders and innovators and have contributed to technology and the world as a whole. It was founded on the premise that LL Nunn, Nikola Tesla and George Westinghouse invented the first commercial alternating power plant in Telluride, starting the technological revolution. The event has honored over 35 individuals since its inception.
The festival involves presentations and panel discussions, as well as Friday night appetizers and cocktails, the annual Saturday picnic and a nightly Tesla Coil Presentation. Throughout the event, we provide social opportunities for honorees, special guests and attendees to discuss ideas with one another and inspire each other. The Tech Festival has worked hard to maintain an environment that is conducive to education and interaction, and everyone is encouraged to participate.
Historically, Telluride has been an incubator of ideas. The unique mountain environment and social atmosphere make it the perfect place to contemplate the future of technology. Join us for the 2010 Telluride Tech Festival on October 1st and 2nd to enjoy some beautiful fall colors and stimulating conversation!